AthenaRMS Basics: Reports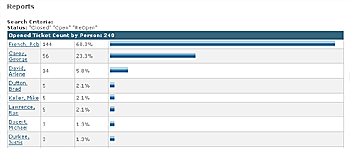 AthenaRMS reporting is simple and elegant. Metrics are provided for Ticket Count by Status, Ticket History, Ticket Resolution Metrics, Opened/Closed Ticket Count by Day, Person, and Problem Type.
The reports allow you to drill down into each line item for further review and analysis.
Data can be downloaded into you favorite spreadsheet.